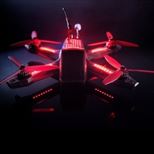 Drone Racing League Season Finale 2017
Alexandra Palace, London
Drone Racing League Season Finale: Allianz World Championship 2017


The Allianz 2017 World Championship Race will take place at iconic
Alexandra Palace on Tuesday, 13 June, 2017. Doors open at 7 PM. The
race will feature 8 of the top drone pilots from around the globe
competing for the title of "World's Greatest" on a one-of-a-kind course
throughout the entire building. DRL is making available a limited number
of tickets to watch the race LIVE, in advance of the broadcast special to
air on Sky1 later in July. Spectators will get to experience FPV goggles,
sit up-close to the action, and see drone demos from the greatest pilots
on earth. In addition to the racing, beer and food will be available
for purchase, supported by a range of additional activations on-site.