Summer Skate Pass - Valid from Now Until 02/09/18
Alexandra Palace, London.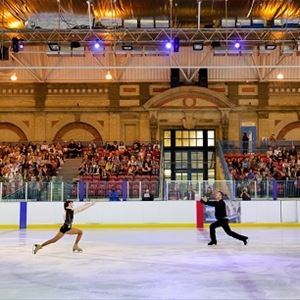 More information about Summer Skate Pass - Valid from Now Until 02/09/18 tickets
T&Cs for the Summer Skate Pass (SSP):
1. Once validated, the Summer Skate Pass allows access to the rink for 1 week ( 7 calendar days).
2. The period of this offer is 5 weeks. Last date of sale/purchase is the 26th August and final date of the offer 2nd September 2018.
3. Passes and wrist bands are none transferable; photographic identifications are required upon purchase of a pass. One a pass has been purchased this can only be redeemed by the individual named on the pass. Only one pass can be redeemed per session and can only be used by the named individual. One wristband will be issued each time the pass is shown and Photographic identification presented. Once redeemed that wrist bands are only usable for a day. The identification of the child/parent will need to be shown every time a wristband is redeemed without exception.
4. The wrist bands are only accepted for day time public sessions. This excludes any special events or different sessions. Face value means the cost of the ticket before booking fees and is not the cost of the ticket when purchasing on the door.
5. From time to time during public sessions areas of the ice may be sectioned off for other uses. This ticket in no way guarantees use of the full ice surface. If the session is deemed as being too busy the Ice Rink Management may at their discretion refuse admission.
6. If the terms and conditions are breached or the rules of the rink are broken the management reserve the right to retain the card and refuse admission. No refunds will be given at any time.